Waking up to the this tragic news... he's missing and presumed dead. Another death... in a week Stephon Clark get murdered by police and news that the officer who murdered Alton Sterling would not be charged.
A week or so after we saw Patrisse and Deray all smiles at the Oscars. Days after a NYTimes piece about prominent protesters having it bad... a Washington Post piece about Alica Garza cooking turkey legs and Bree Newsome in the Atlantic talking about the Civil Rights Movement's generation gap, not the civil war taking place within the movement... grassroots vs coopted forces. They're not talking about the death of Erica Garner, Darren Seals, Muhiyidin d'Baha or any of the others. They're not calling for or funding investigations into their deaths. It's all about them... and positioning themselves within intersectionality.
If there was ever a time to talk about the disconnect that exists within this movement it is now. How many more have to die within before we start looking critically at those who rose to prominence off the deaths of black men while chasing intersectionality?
Boy who hugged officer in viral photo among 3 missing after family's car plunges off cliff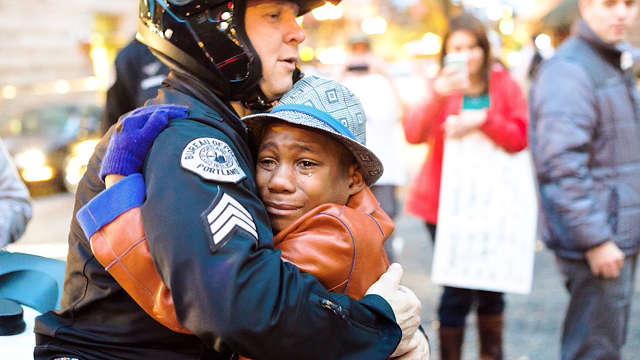 Investigators are still looking for the bodies of three children after their family's SUV plunged 100 feet off a coastal highway.