They released the video from of 1 of 2 officer involved shootings… The ONLY time they release video is when it is in their favor, is subjective or doesn't show the actual action. This whole 'he had a gun' and 'the officer feared his life' is getting old. So what if he had a gun for protection. The region is the most violent, most dangerous, murder capital in the nation. Nobody is protecting or serving him. What are young brothas to do when they encounter white nationalists (exposed by the FBI report on white nationalists infiltration of law enforcement) or racists (officers who post racist posts online, 2 of which were fired just last week) who hide behind a badge? Brothas can't defend themselves? MO is a concealed carry state. Terry Tillman had a concealed carry permit. Brothas can't exercise their 2nd Amendment right?
And miss me with all the 'he pointed a gun at the officer' but didn't pull the trigger pausing to give the officer time to draw his weapon and shoot which was exactly the bs narrative in both officer involved shootings last week. They never shoot first or shoot the officer on sight.
"The footage, which lacks audio, captured part of the shooting, though the angle of the in-car camera leaves much of the action out of frame.
Hayden told reporters that police confronted the man because he matched the description of a suspect in an attempted robbery at a nearby White Castle. According to a report later day from the St. Louis Post-Dispatch, Hayden said an officer had spotted the man running behind the alley, and, as the patrol car approached, "the man turned and pointed a weapon" but did not fire at officers.
The officer exited his car and fired several shots, the chief said, striking the subject in the right knee. The man was later transported to the hospital in "critical but stable condition." (In an email today, SLMPD spokeswoman Woodling said the man has since been treated and released from the hospital. She later clarified that "warrants have not been issued for this incident at this time.")
In the video, the man appears to raise his right hand to point what police say was a .22-caliber pistol at the officer inside the patrol car. Most of what happens next occurs out of the camera's frame, and what is visible is largely obstructed by a bush. At the 33-second mark, the man appears to jump a fence and fall on the other side. Two officers then enter the frame and approach the man with weapons drawn. It's not clear if the man was still pointing the handgun at officers when he was shot."
[Video] Dashcam of STL Police Shooting Appears to Show Man Aiming at Cops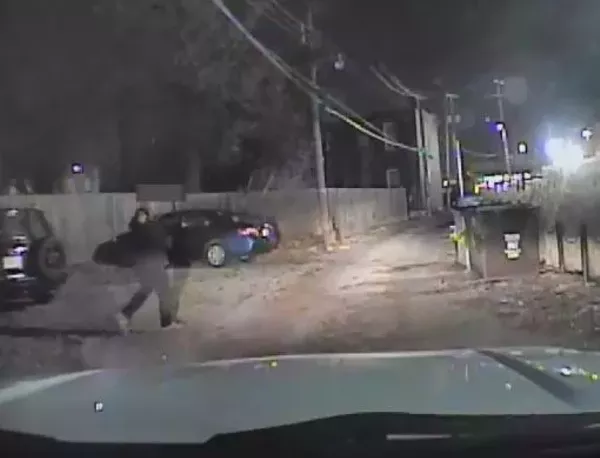 Today, St. Louis police released footage from one of two officer-involved shootings that occurred last week. The footage, taken from a patrol car's dash camera…