No word from Kaep or Nike on the murder of Botham Jean. None of the proceeds of Kaep's multimillion dollar deal or Nike's 30%!i(MISSING)ncrease since the campaign started to fund a lobbyist group to fight the unjust murders of black people by police, police brutality or corruption. Not one cent donated to real grassroots or activists who are under attack and lost their livelihoods or to investigate those who have lost their lives like Darren Seals.
Splain to me again how Nike commercializing our struggle then selling it back to us is good for black people?
Letter to Kaepernick: Where Do You Go from Here? | Black Agenda Report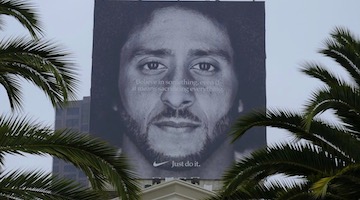 Long before the Nike deal it was clear that Kaepernick's politics were being subsumed by other forces pushing a weak soup of "diversity" and "free speech." "All the commercial achieved was the erasure of Black struggle under the banner of 'diversity' and the 'American dream.'" ...