How they play us... they know negros love to live vicariously through new black faces in high places.
"We've seen that movie before though haven't we? Didn't we just finish eight years of an unaccountable black president presiding over the greatest loss of black family wealth since we started keeping statistics on it? Didn't we just see three million American families lose their homes? Didn't we hear Eric Holder, the first black attorney general tell us the banks to were too big to jail and too important to investigate, and didn't we see Loretta Lynch the second black attorney general literally write the fine print on get out of jail free cards for CitiGroup and other criminal investors who walked away with billions. We've lived to see a black president break his word on raising the minimum wage and delivering single payer health care? The first black president blockaded and bombed all the countries the white presidents before him were blockaded and bombed and added a few new ones, including the actual overthrow of a prosperous African country, where black Libyans and other Africans are being traded as slaves right now. Didn't we see the first black president expand fracking around the world, privatize big chunks of public education, and let all the torturers and kidnappers on the US payroll off the hook?
If eight years of Obama taught us anything, it's that a black president can do immense damage to the cause of black working class families. Showing up female with dreads and riding on black girl magic just isn't enough, and keeping your politics on war and peace a secret till after you're elected – as Stacey Abrams, Lucy McBath and a host of others are doing this year is a sign of pure contempt and real disregard for the folks she expects to support her political career. We have indeed seen this before. Lucy, Stacey and the rest can continue their careers without my vote, thank you very much.
There's already a cohort of thirty or so CIA Democrats, Democratic congressional hopefuls straight out of the military, police, intelligence and homeland security world. Add those to the progressives who won't speak on the subject, and it looks like any congressional blue wave that hits will be mostly blue dogs, right wing Democrats. We have indeed seen this one before."
How Thirsty and Stupid Do Stacey Abrams, Lucy McBath, and Most Progressive Democrat Congressional Candidates Think We Are? | Black Agenda Report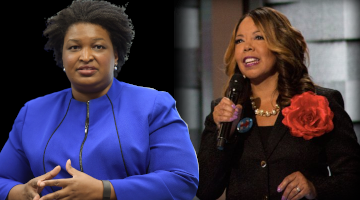 How Stupid Do Stacey Abrams and Lucy McBath Think We Are?