"Anyone who has remotely been paying attention should be aware that unjustified police killings of African-American men continue unabated. In far too many police departments, the unwritten rule for encounters with black men is shoot first, ask questions later.
The most recent tragic example is the Thanksgiving night slaying of Emantic "E.J." Bradford Jr., 21, at the Riverchase Galleria shopping mall in Hoover, Ala., a Birmingham suburb. The city has been roiled by protests since Bradford's killing — for good reason.
It turns out that Bradford, who had no criminal record, was not one of the men who were arguing and had nothing to do with the original shooting. When the officer encountered him, Bradford was trying to lead bystanders to safety; he was legally armed with a handgun, though some witnesses have said the weapon was holstered. According to an independent autopsy conducted at the behest of Bradford's family, the officer shot him three times from the rear — in the back, neck and head.
Hoover police acknowledged that their initial story about the killing was wrong, then went mum. They have declined to name the officer involved or publicly release any documentary evidence, saying they do not want to compromise an ongoing investigation of the incident."
Eugene Robinson: Bulldoze the 'blue wall of silence'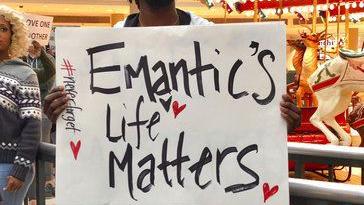 This just in: Black men are still being killed by police officers for no good reason.