Another backhanded 'endorsement' by The Post, that boils down to basicially "He's our boy, he will continue to do our bidding and he's grooming John Muhammad to be Lewis Reed 2.0."... Nevermind St. Louis has been on a rapid decline his entire tenure....
"Our misgivings about Reed are rooted in his failure to distinguish between his own singular agenda and that of the city he's supposed to represent. He is slow to understand the dangers created by real and perceived conflicts of interest. When confronted with examples, he responds with defensive exasperation rather than acknowledging mistakes and pledging to do better.
On the positive side, Reed cobbled a good working relationship with Mayor Lyda Krewson and her predecessor, Francis Slay — which is essential to ensure that political infighting doesn't embarrass the city or exacerbate the tensions that already divide St. Louisans along political, socioeconomic and racial lines.
Reed also doesn't seem to understand what's wrong with hiring a junior alderman, John Collins Muhammad, Ward 21, as a campaign worker. Reed's campaign has paid Muhammad $4,250, the bulk of it right before Muhammad flipped his support for a bill Reed didn't like requiring a referendum on airport privatization.
Asked about the appearance of impropriety posed by the having a direct financial relationship with a sitting alderman, Reed grew agitated and responded, "Who cares?"
President of the Board of Aldermen Lewis E Reed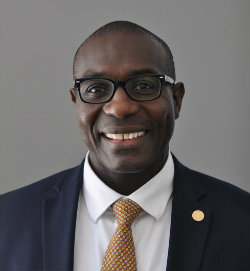 President of the Board of Aldermen