All eyes on the Chi...
"Things could get very ugly in Chicago if the cop that killed Laquan McDonald is set free by a jury that includes only one Black person.
You can watch the tape of McDonald's execution. It's been viewed by millions. You watch the young victim walking away from his murderer. You see 17-year-old Laquan's prone body lying on the ground, curled up in a fetal position and jolted again and again as the cold-blooded killer Van Dyke pumps one more bullet after another into the Black teenager. You can discern smoke rising out of Laquan's body with each shot.
"Only thirty seconds after arriving on the scene, and six seconds after exiting his car," the political scientist Anthony DiMaggio writes in a forthcoming study of U.S. social movements, "Van Dyke fired numerous shots that brought McDonald to the ground, after which the officer emptied his clip into the suspect, despite McDonald being in a fetal position, not posing any danger to police. In total, Van Dyke shot McDonald 16 times in 15 seconds, with the suspect on the ground for 13 of those seconds.""
White Lies and Blue Codes: Laquan McDonald's Killer Goes to Trial | Black Agenda Report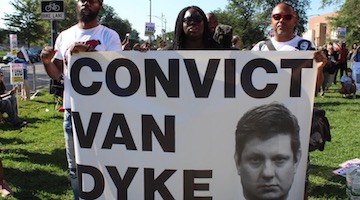 Things could get very ugly in Chicago if the cop that killed Laquan McDonald is set free by a jury that includes only one Black person. "Van Dyke and his wife have been presented as if they are the real victims."